Check out "Little" Johnny's awesome purple VH Charger.
Dynoed at 520 RWHP at 5500 rpm before upgrades!!

Produced 650 ftlbs of torque at 3800 rpm!!
I first became aware of the car at Calder park drag way over a year ago…All eyes were on this Purple Charger that was running the qtr at 129 mph!!.
In fact, that night it ran a best time of 11.2 at 129 and it was evident that the ET's suffered first time out because of the traction limitations while foot-braking at the tree when boost comes on. (Ed note: Current thinking is that a Trans Brake is needed)
So what was the deal?? How come so fast? What was this rampant Mopar that hadn't been seen on the track before??? A BB Wedge?…a stroker SB?…a crate Hemi?
Well, hold on to your Hurst shifters...this monster was just a little old work horse 318!!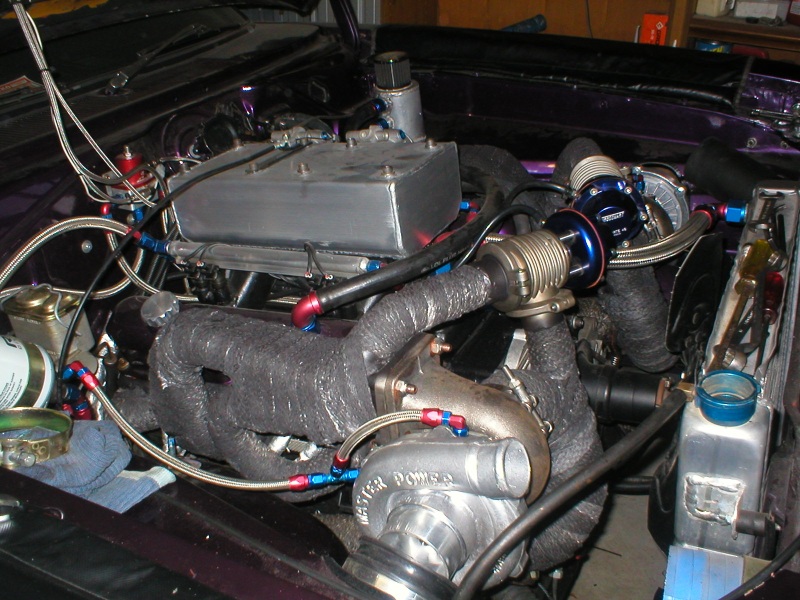 The beginnings -
Mark Ellis has been around drag and circuit cars for some time, working on an Australian based AUSCAR team back in the 80's, and now spinning a wrench at Valiant Spares in Bayswater, Melbourne.
During the interval between then and now, Mark turned his hand to building the ultimate streetable go-fast 318. What's that you say, can't be done?, need a big cam and stiff gears which makes streetability impossible?
Well Mark thought different, and decided to combine his alloy fabrication talents with modern day thinking and produced an awesome HP monster from the most sedate of Mopar Small Block beginnings………a Twin Turbo low comp 318 that runs on standard unleaded fuel.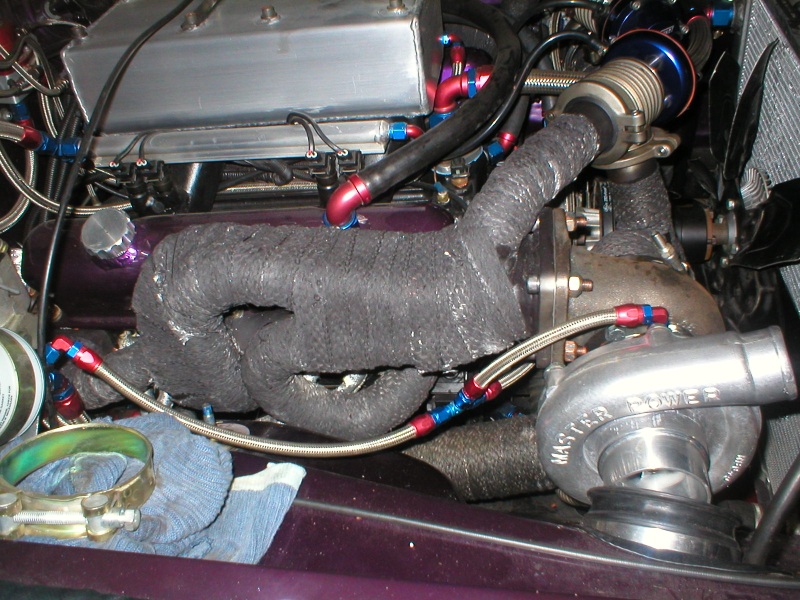 A second chance
"Little"Johnny U as he likes to be known, purchased the engine and gearbox from Mark about 2 years back. (Mark had found that he was never going to have the time to install his handy work in a car that would do the engine justice.)
So Johnny set about shoe-horning this plumbers fantasy into his very tidy Purple VH Charger, a car he's owned and been his daily driver for 9 years.
Now, he has the little Mopar donk producing HP and times that put most brand X Big Block owners into the shade.
Johnny says there's been a lot of R&D involved , particularly in the area of matching the converter to when the engine comes on boost, and for the last few months the car has been up on stands, having a new intercooler built for it and various other modifications, with Mark's help.
When the car was on the road, Johnny says that it was extremely docile, but of course breaking the tyres loose for 200 metres is child's play with the torque that's available with just a little weight on the loud pedal.
So Johnny is confident that the work's almost complete and I'm sure there's more people than me who'll be interested in the times this mighty little Mopar will lay down.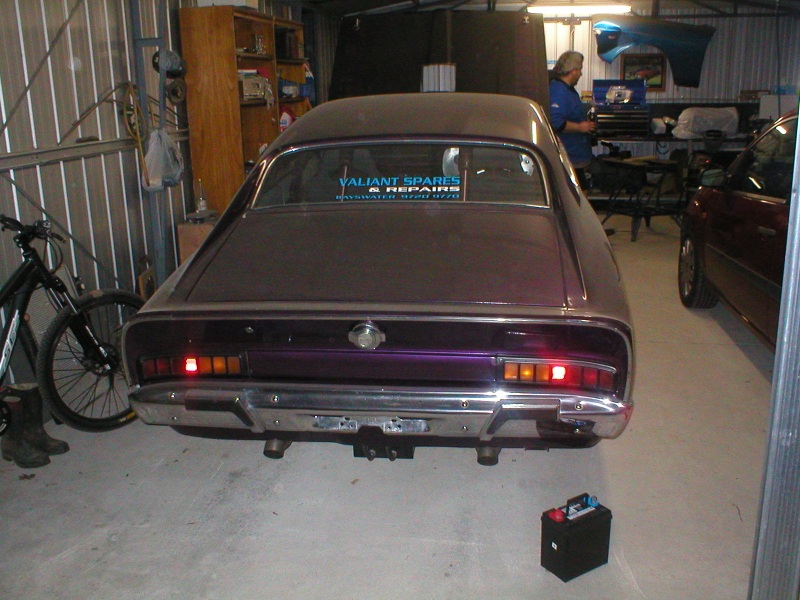 Specs
318 block, 8:1 comp, Eagle rods, KB Hyper slugs, 360 heads
.525 lift Wade solid Cam.
Twin Master Power TO4 Turbos running 3 stages of boost; 7 /15 / 21 PSI.
Twin carter electric fuel pumps
Home Fabricated EFI plenum mounted on a Weiand Tunnel ram base intake with Bosche injectors.
Contoller is a Wolf 3D computer with a Crane Hi Six ignition
The 3rd member is a Ford 9" using a Strange Full spool with 31 spline axles.
Traction is managed by a Pinion snubber, reversed spring hangers and Caltrac style bars
Stoppers are BA Ford front callipers with 12" rotors with a Rack and Pinion front end conversion.
Trans is a 727 with a 2800 stall.